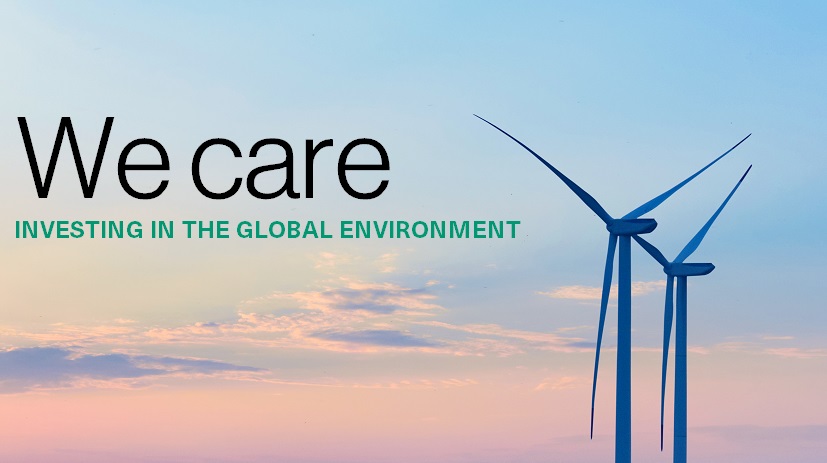 Climate change is a global problem which all organisations must address in order to reduce the rate of global warming. At Brett Martin we are focused on delivering tangible impacts to minimise the impact that our production processes and finished products have on the environment.
A sustainable future
Manufacturing thermoplastics requires energy to produce the heat essential for the extrusion process. This presents an opportunity for us to invest in an ambitious plan to increase our use of renewable carbon neutral energy. Following a period of sustained investment our Mallusk site has now converted 50% of our energy use to sustainable sources.

Wind power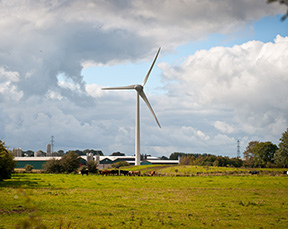 Standing 99.5m tall from the ground to its blade tip the massive Enercon E-70 wind turbine generates 2.3MWp and a permanent reminder on the Mallusk site of our drive for carbon savings. Thanks to the reliability of wind in the local weather this investment saves thousands of tonnes of carbon per year.
Solar power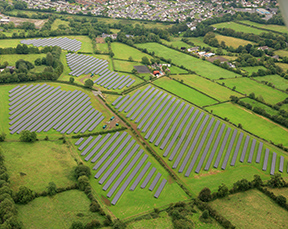 Situated on a hillside above Mallusk, our dedicated 6.42MWp solar installation feeds directly into the manufacturing site. This produces enough clean solar energy to power the equivalent of over 1600 homes. The solar installation enables us to save 3700 tonnes of carbon emission each year, equal to taking nearly 1,800 cars off the road.
Recycling is key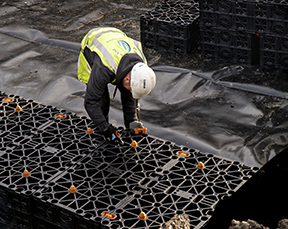 Discarded plastic packaging has become a major environmental issue. When processed, single use plastics provide a valuable material resource which can be reused in new packaging and other plastic products. We are engaging in the use of post-consumer polypropylene waste in a number of innovative ways, including the production of StormCrate55.
This use of recycled material takes literally millions of bottles and containers out of the waste stream and into a product with a long lifespan which is playing its part in adapting our built environment to cope with climate change.
Brett Martin Environmental Brochure
PDF | 1.78MB